Obviously, there are more than 8 questions to answer about sex; but for now, we'll just tackle these ones.
As a team, we realized the lead-in question we receive the most during online therapy sessions is: "What is wrong with me?"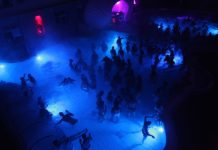 I'm not on the set of a porno flick or at a wild frat party in the summer that's taken a turn for the erotic. No, I'm at a swinger's club.
Lexi shares her tips to maximize your - and your partner's - pleasure during anal play.
Breakups are never easy, but add an open relationship status to the mix and things can get even dicier.