The Pubic Zone: Primping your Parts for Play at Hedonism II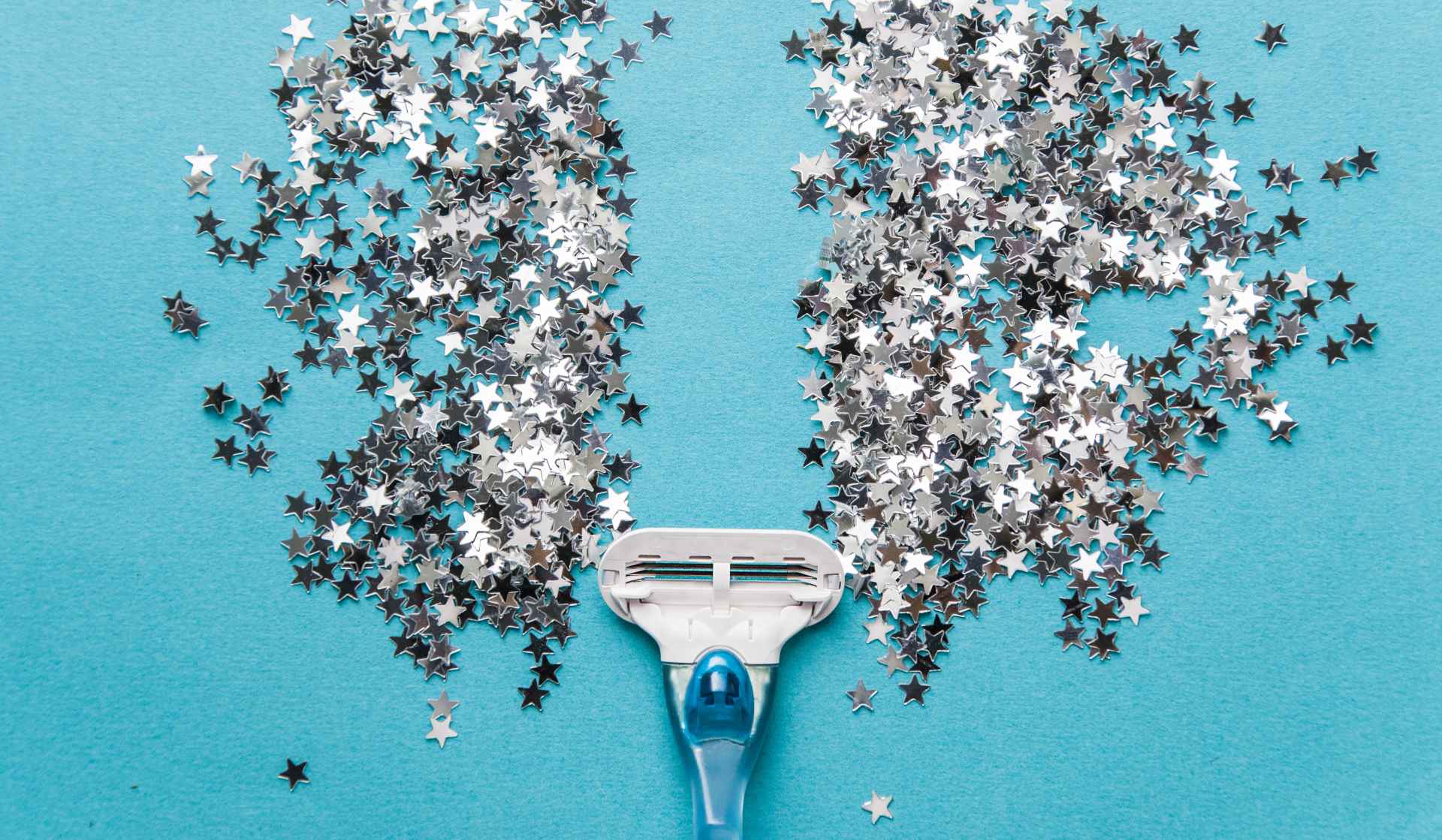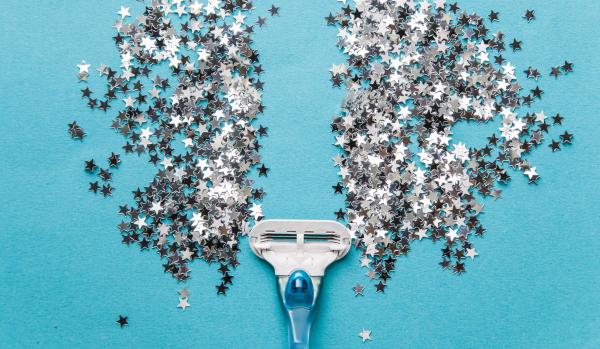 At Hedonism II, the naughty adults-only resort in Jamaica where swingers and nudists alike hang out, the crowd is usually naked all day so genital grooming becomes a cultural necessity.
Lifestylers often primp their pubes before a get-together to avoid creating dental floss for nether region visitors. Some say pubic hair is God's idea of a practical joke so they remove it, which also creates new sensations.
At Hedonism II, the naughty adults-only resort in Jamaica where swingers and nudists alike hang out, the crowd is usually naked all day so genital grooming becomes a cultural necessity.
You'll see everything from the full Monty (most common) to a tropical rainforest between people's legs—no look is out of place at Hedonism II (a.k.a. Hedo).
"The Pubic Hair Police, an offshoot of the Sex Squad, ensures no wild bush fires break out on the beach," says Roy, a Hedo guest. "Over the years we have seen spontaneous combustion from too much friction." (Yes, open public sex is permitted in the nude pool area.)
Tips for the Hairless Kitties
Not all men appreciate a weeded garden, though. Some refer to the treasure trail starting at the belly button as the hair-way to heaven.
For those joining the Hairless Club for Women, though, be wary when going pee-pee. The flow, if not strong, may wend its way around your butt cheek without the guidance of fluff. In addition, any hair growing back can catch on toilet paper—so dab, don't wipe. One guest laughs that after a clean shave, all her underpants are too big. Snatch, I mean natch, she didn't learn this till the plane ride home since few female guests wear panties at Hedo unless they show as part of a costume for a theme night.
Although most people take care of removing pubic hair on their own or with a professional or a loved one, a Barber of Negril sometimes opens a Pussy Galore shop to help groom Mt. Baldy poolside. His motto: No muff too tough.
Various guests providing this service have shorn, coiffed, and teased their way to legendary status in the front yards of many a filly needing her folliculars exfoliated. (Some even set up bleaching stations.) Other personal groomers maintain photo albums of happy past customers so new clients can choose a design of their liking for their twat topiaries—flying Vs, landing strips, maybe even a Nike swoosh.
Guys and gals use all methods to rid themselves of unwanted body hair: shaving, waxing, plucking, depilatory creams, electrolysis, laser hair removal. The Brazilian wax is still all the rage to remove pubic and butt hair. So much for saving the rainforest. Like all waxing, going to South America the first time hurts like a son of a bitch.
Guests gush about Gillette's Mach3 blade for shaving. If the slight potential for blood from the razor unnerves you, though, be aware that the buzzing of electric shavers may lead to a tingling sensation and an extended timeout from the shaving process (wink!).
Use gels instead of shaving cream so you can better see what you are doing down there. If edging the lawn yourself, try sitting in the shower instead of standing bent over for easier access. Cure Care is a piss-poor hair conditioner/skin moisturizer that makes a great shaving gel. It's "slicker than snot for shaving the twat," says Tony D., a hairdresser in eastern Pennsylvania. Find it at Sally's Beauty Supply in the hair care/conditioner aisle.
To avoid razor burn and bumps, some guests use a topical cream called Bikini Zone after shaving. They apply it with the grain of the hair in a hot shower. Another product is a salon cream called Tend Skin. Coochy shave cream sold by Tasteful Treasures works, too, by some reports.
If you're tired of shaving, some guests recommend a product called Magic Powder (sold in the African-American hair care sections of large stores such as Wal-Mart). It works like Nair but causes fewer problems to sensitive areas. You mix it into a paste, apply to the skin, wait, and then scrape it off.
Hair, There and Everywhere: Manscaping Foils Fur
Men removing body hair below their neck—or manscaping—has long been part of the sporting life. Professional bicyclists shave their legs to avoid the pain of ripped-off bandages. Boxers shave their chests so punches slide off their sweat. And swimmers shave most of their bodies to be sleek in the water.
But manscaping outside the locker room gained social acceptance with the chest waxing scene from the 2005 movie "The 40-year-old Virgin," the growing availability of men's body hair grooming services and products (such as the Philips Norelco Bodygroom BG2020 shaver) and more heterosexual men willing to do it.
Men have two great reasons for shaving or trimming the hair on their junk—it encourages female faces to draw near and makes your schlonger look longer. Some only shave their balls and trim the top pubes because they want to avoid the turkey-neck look.
Michael C., of Oak Park, Ill., has used Nair from his elbows to his shoulders for five years to show off his tattoos. A retired gynecologist in Riverside, Ill., shaved his armpits most of his life to feel clean. The beard trimmer came out when Larry N.of Brookfield, Ill., known as Hairy Larry in grade school, wondered if suntan lotion would permeate his arm and leg hair before his first trip of many to Jamaica.
Women's requests also account for some manscaping. "When I look in the mirror and I think [my body hair] is appalling, what's she going to think?" says Greg M. of Chicago's South Side. "Get rid of it and you'll get the payoff."
Men also focus on removing back and shoulder hair, says Allyson K., a medical esthetician at a Midwest laser clinic. She points to advertising for encouraging more male clients of all body types and ages to try laser hair removal.
"You can laser any part of the body except the scalp and inside of the nose and ears," Allyson says. About 35% of her hair removal clients are men and about three-quarters of those are straight.
Not every guy bothers to groom his body hair though. "If I started, I wouldn't know where to stop," says a hirsute engineer working in Pennsylvania, but he admits to trimming lower regions before visits to Hedo.
Ornamenting your Parts
One Hedo guest with an enormous penis wore a cock ring all day long while admiring his erection; if it started to flag he helped it along. After many days, he no longer scared people; he became part of the scenery. He permitted photographs in the past and posed and grinned with kindergarten delight. (Don't let the security guards see you with a camera because recording devices are not permitted on the nude beach or at the nude pool.)
Woody, another guy whose anatomy didn't relax, made guests giggle at first, but later inspired envy in the men. Some women offered him 'Heart Ons' (stickers) to decorate it.
Some people at Hedo make themselves memorable by having interesting tattoos and piercings. One Hedo gal has a colorful butterfly tattooed on her pudenda. When the hair grows in, she says it becomes a moth.
One man with more than 40 genital piercings said he made alarms at airports go off so he could drop his trousers in front of everyone. As a professional piercer himself, he decided to perform his art on the beach. Unfortunately, he used rum to cleanse the piercing area (and to keep himself refreshed), and caught his rubber glove in the piercing of some goofball's foreskin. When he took his hand away, the glove didn't come away: Ouch.
Tanning ALL your Parts
Jamaica is only 18 degrees north of the equator, making the sun brutal, especially to body parts not normally exposed. SPF painting by numbers is essential. Some Hedo guests obsess about tanning; others stay under the many trees and umbrellas to avoid the sun. The most important part of ensuring an even tan is remembering to rotisserate: turn over from time to time.
Some guests opt for the electric beach before coming to Hedo, as the white circles over their tailbones proclaim. White lines on nude bodies attest that some places are difficult to tan. Look for smile lines under buttocks, a.k.a. 'tail lights' or 'winkies'; the smiles of white under breasts, a.k.a. 'headlights'; and those two white lines on a lady's pelvic area, a.k.a. 'lane dividers.'
One guest (ironically, an owner of a tanning spa) burned the hell out of his ass after three hours on his stomach on a raft. He not only suffered through chills and nausea for three days but on the third day he was lying in the hammock on three towels to pad his butt when an unripe ochi fruit fell from the tree and hit him square in the 'nads. He jumped up clutching his parts, not knowing which hurt worse, and crying out, "Oh my balls, oh my ass."
One woman's husband liked to work with deer leather and produced for her the most charming tanning contraption: a labia separator to hold her lips apart for better sun access. Visualize two soft-leather-clad mousetraps gently clamped to left and right lips of the labia majora with strings attached to strap them to the thighs so the mousetraps stay apart. A spool also makes an excellent butt separator. Many want to put in an order for breast and cheek lifters.
Remember to apply sunscreen to the boy parts—and get the wrinkles out because of the cursed zebra dick that can occur with too much sun. Opt for a clear lotion because the white stuff draws verbal barbs.
On the side of the nude pool, a woman was applying sunscreen to some men's members. She rubbed and massaged, spreading the lotion slowly. When she noticed all the other men watching, she said, "This is sunscreen, but I call it 'men's wrinkle remover."
Most people are happy to apply lotion to your back. They might even do your butt for you. If your back is particularly hairy, use a spray instead of a lotion because rare are the people who want to run their fingers through it.
"I've taken vacations in Florida by myself. You wouldn't believe how hard it is to get someone to put sunscreen on your back, says Rick from Atlanta. "I was refused by 17 people in a row once. The 18th was a nice lady who did it because her husband wasn't there to see. Contrast this with Hedo. The first person I ask puts sunscreen on my back."
Women can preen and pose and bend over for easy access to their backs for the application of sunscreen. ("Oh, look, I must pick up something from the sand again—and again.") Just make sure you are not SPF incompatible with whoever does the rubbing.
To relieve sunburn or sun poisoning bumps, use aloe straight from a plant rather than the packaged kind. Ask a Hedo gardener to cut you some. Store it in plastic in your room refrigerator. Taking an aspirin or dabbing your skin with vinegar also helps reduce the inflammation of a burn. You may smell like a salad, but you'll be more comfortable.
Be careful when combining the use of sunscreen, booze, and rafts. By applying enough tanning oil and Bloody Marys, you can slide all the way across and off those suckers on your naked butt. Also beware of falling asleep on the beach. One guest dozing on the beach woke up covered with shaving cream and sprinkles, minus his pubic hair.
About the Author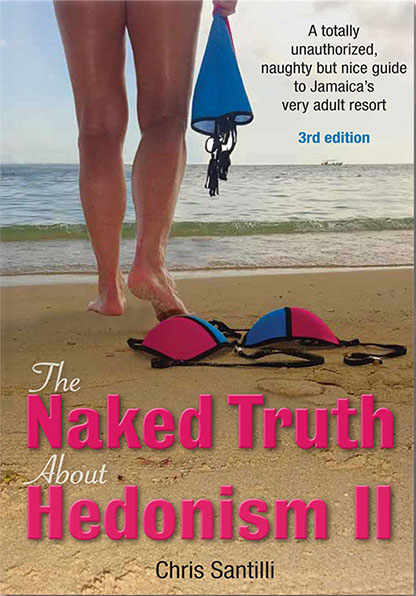 By Chris Santilli. This article is an edited excerpt from the 3rd edition update for 2019 of the travel/humor book, The Naked Truth About Hedonism II and other writings. For more information, see chrissantilli.com.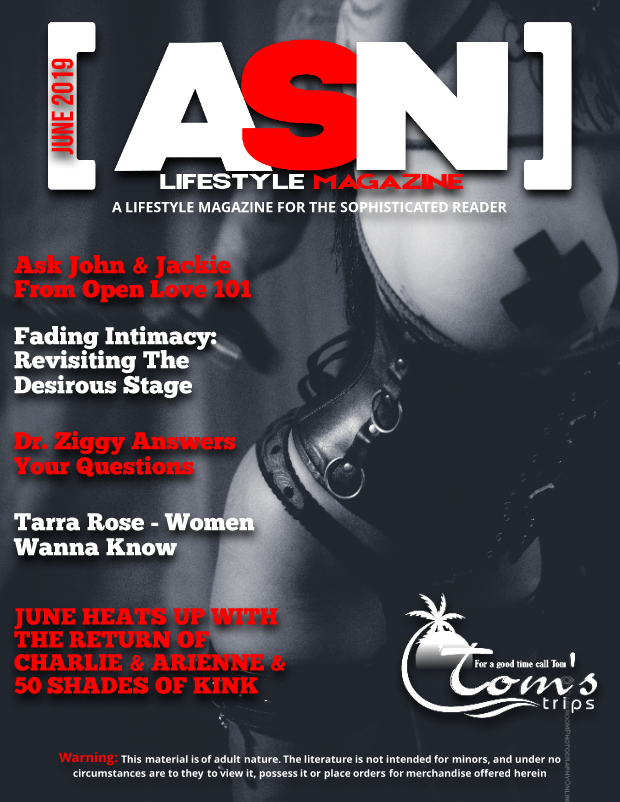 This article originally appeared in the June 2019 issue of ASN Lifestyle Magazine.