It's a Wrap! See Inside Our SDC Takeover of Cap d'Agde 2019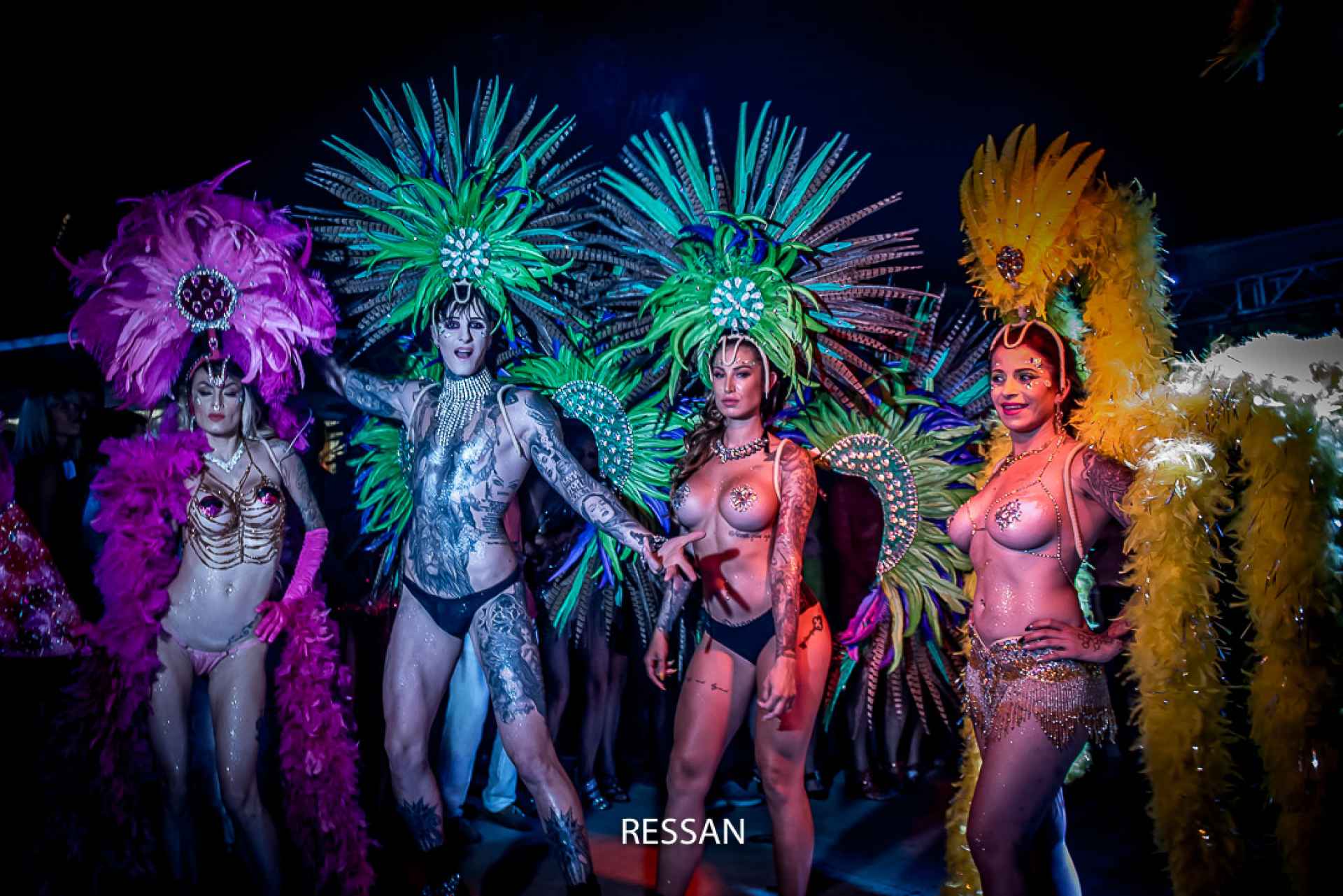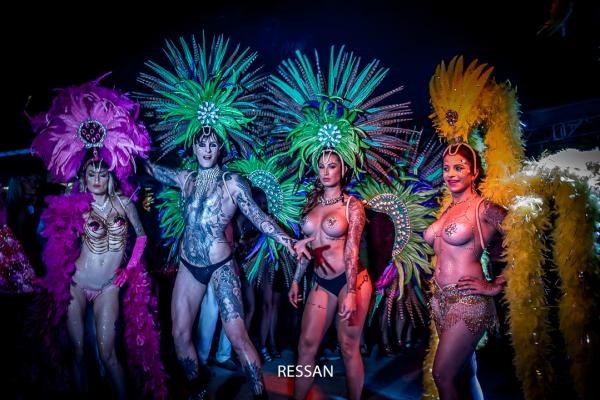 From relaxing in the sun to extravagant, sexy parties and exploring kinks and pleasures, our Cap Takeover had it all!
Our guests are STILL raving about what they're calling the best SDC Cap Takeover EVER!
We rocked the South of France with tantalizing theme nights and marveled at the stellar performances put on by superstar Quentin Dée, his troupe of dancers, and our unique special guests. And with the world-renowned Ressan as our official event photographer, we captured some of the hottest moments to share with you and cherish for years to come.
Cap d'Agde is one of the most unique places to visit. As a naturist village, people come from all over the world to discover the freedom of walking around nude, relaxing naked along the coast of the Mediterranean Sea, and discovering all the other sexy ways they can fill their time.
As SDC's podcast producer and host, I had the unique pleasure of not only helping our Cap Team ensure that our guests were having the time of their lives, but I also had the rare opportunity to interview some couples about their experiences in Cap d'Agde. 
Whether I spoke to first-timers or to loyal SDC guests who have been vacationing with us for many years, the response was unanimous: they raved about the theme nights and entertainment and complimented us for all of our attention to detail when it came to making their stay in Cap absolutely perfect. 
Here are some of the sexiest highlights from our two-week SDC Takeover in Cap d'Agde.
The First Night
We kicked off our SDC Takeover in Cap d'Agde with a bang! All of our SDC guests got decked out in their animal prints and Tarzan and Jane outfits to join us at
le Jardin d'Eden
for our first theme night: Jungle Experience.
The first night of our Takeover is the perfect chance for our guests to meet each other and share some laughter and great conversation as we sample delicious canapes and enjoy a welcome drink. Some of the guests knew each other already from previous Takeovers and other SDC Travel trips they had taken together, but our frequent travelers also knew exactly how to make our first-timers feel at ease. 
We were collectively impressed when Quentin Dee and his team of performers came out in their costumes — two of them on stilts and in leopard prints, and the other two wearing head-to-toe second skin tiger jumpsuits, crawling around and interacting with our guests.
From the very start, it was immediately clear to everyone that SDC was going to take this Takeover to the next level.
World-Class Theme Nights and Performances
No one knows how to party like SDC! 
Throughout our two-week Takeover, we were treated to talented performances from our resident entertainers of Quentin Dee and his troupe. It was extraordinary to see their breathtaking costumes (many of which they made by hand), watch them dance, play with actual fire (and eat some, too!), do acrobatics with the stripper pole, and stimulate our guests to let loose on the dance floor.
Special guest performers also added extra cultural flavor to our soirees, like a duo of bongo drummers for our Brazilian theme and a cabaret singer for our Taken French night. We also had a team of Shibari bondage experts do rope suspensions on the female performer, which was beautiful to watch from start to finish.
As always, the best parties have the perfect music that puts you in the groove. Any time our world-renowned DJ Julien B turned up the beats, all our guests danced their hearts out, pausing only to sip their drinks and marvel at our entertainers. DJ Julien B also spun at our Jardin d'Eden and Babylone pool parties, basically providing us all with sexy tunes to keep us feeling sensual all day and all night.
It was incredible to see how many of the guests were dressed up in each night's theme and ready to party. Everyone was wearing white and glittering gems for our White Diamond theme, but I was surprised by how many guests really went all out to find outfits for our China Town theme! Seeing so many people in their unique ensembles really added a lot to the ambiance.
Leather, latex, and chains… oh my! When I interviewed our guests about which theme they enjoyed the most, many said Public Disgrace fetish night, which was sponsored by l'Orage Club in Montreal. We had BDSM furniture set up around the pool area for guests to use safely under our supervision. Le Marquis, a local Master from one of the dungeons in Cap d'Agde, took center stage with his slave in an actual cage, which was suspended by chains. It was quite a sight, especially for our guests who had never seen a BDSM setup like this before. The music intensified and became more erotic as Quentin and his team did a kinky striptease and fire show.
Overall, the vibe was electric and sexy every single night, and everyone I spoke to told me they could feel that there was something extra special about this SDC Takeover.
China Town Buffet and Theme Night
The chefs at Le Jardin d'Eden cooked up an Asian feast during our all-you-can-eat China Town buffet, filled with deliciously fresh seafood and fish, creative dumplings, spring rolls, and more, each with a gourmet take on Asian cuisine. After our guests ate like royalty, they were treated to another taste of Chinese tradition as we led them to follow a dragon around the pool. While they lined up behind the dragon, we invited them to savor the moment as we told the story of the dragon, a Chinese symbol of luck, strength, power, and prosperity. Our beautiful tale ended with, "Tonight, SDC changes its meaning into: Seek the dragon. Discover your happiness. Create moments of pleasure together." It was a perfect and poetic moment that made us all feel united as part of the SDC family.
Glamour Beach Club Foam Party
You can't go to Cap d'Agde without attending at least one foam party at Glamour Beach Club! Before you even enter, you have to take off all your clothes and shoes — but you can keep your sunglasses on. When you walk in, there's the option of relaxing in the bar and lounge area, or you can go and play in the foam. I remember during my first Glamour foam party last year, I almost got lost in the foam because I'm so short, but I had a blast, and no one seemed to mind as I felt my way around the crowd. With the music and the foam pumping all day, you can have fun in and out of the sun. It's a very enjoyable experience and can be quite sensual — and is definitely a great way to meet new people!
Rainy Day? No Problem!
During our entire SDC Takeover in Cap, the weather was gorgeous — except for one rainy day. True to our nature, we didn't let nature rain on our parade! We quickly improvised, and partnered up with the sauna Histoires D'O, which gave our SDC guests a free welcome drink of sparkling wine. We also provided shuttles from both the Jardin d'Eden and Jardin de Babylone to keep everyone out of the rain. We had excellent feedback from our guests about our quick thinking and our recommendation for the premiere club and experience.
Babylone Pool Party
Imagine a hedonistic playground with around 1000 naked people under the hot summer sun, dancing, partying, and playing with each other openly, in and around the pool and Jacuzzi areas.
Even if you've never been to Cap d'Agde, you've probably heard about the historic pool parties at Babylone. I couldn't count how many people were in attendance each time, but I was told by one of the Babylone staff that there were approximately 1400 people there on our busiest day. 
At Babylone pool parties, the choice to play with other people there is yours — you don't have to do anything you don't want to do. Everyone is incredibly respectful, open-minded, and non-judgmental: truly the guiding principle of being in a naturist village like Cap d'Agde, and the main reason I love it there so much.
The Experience of Cap d'Agde
The beauty of being in Cap d'Agde is that no matter where you are, you can pick and choose the kind of experience you're looking for. If you want to just sit back and relax naked in the sun, you can. If you want to explore the sexy parties and clubs and dance the night away, you can. And if you want to go further and discover your kinks and the pleasures of being with other couples and partners, you can absolutely do that, too.
Our guests loved their experience so much that we are already over 50% booked for our SDC Takeover of Cap d'Agde in 2020! 
So don't miss out — reserve your spots now at Le Jardin d'Eden or Le Jardin de Babylone and join us in the sexiest place on earth!