Chris Santilli's Sex Tales from Hedonism II, The Naked City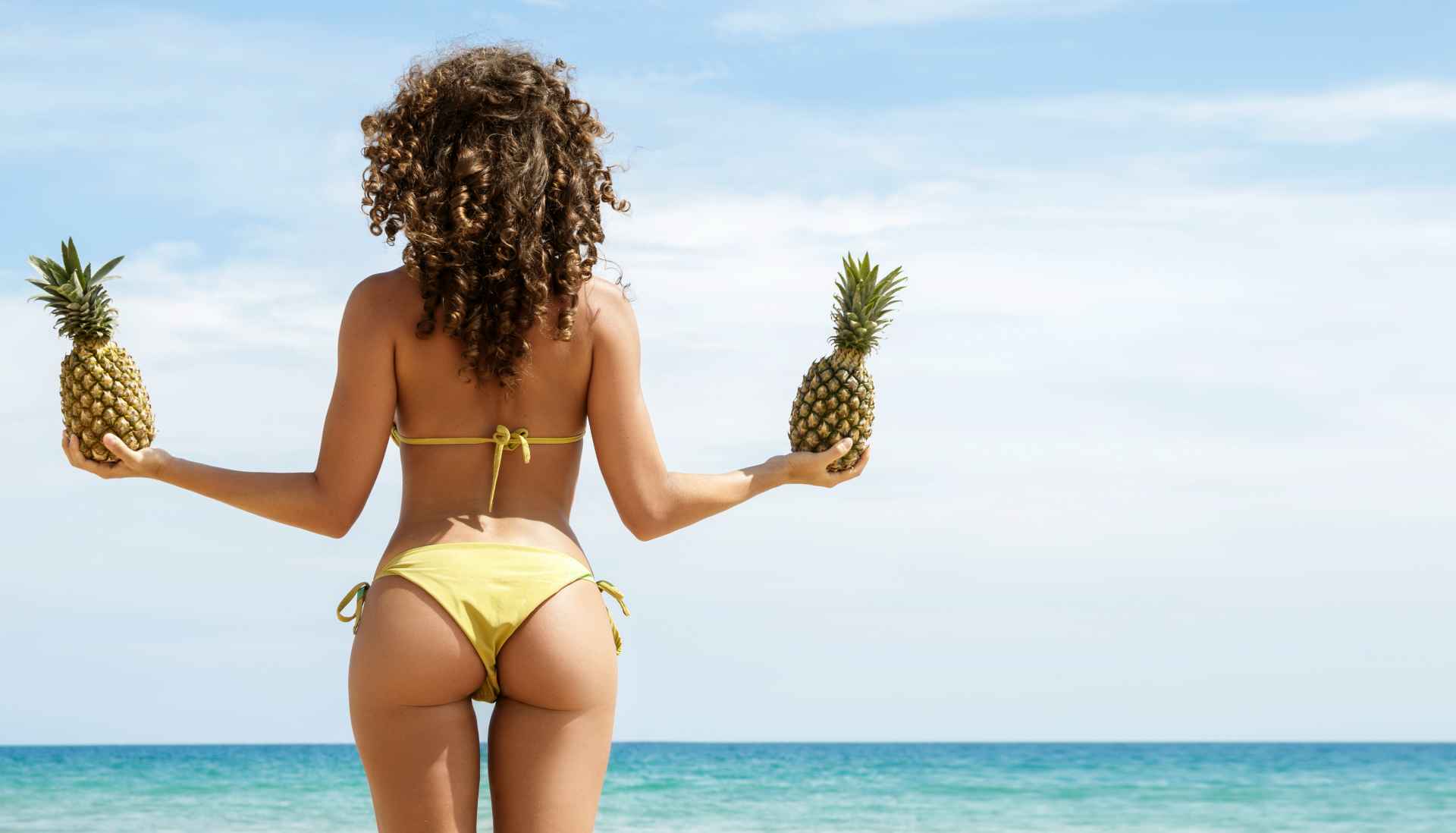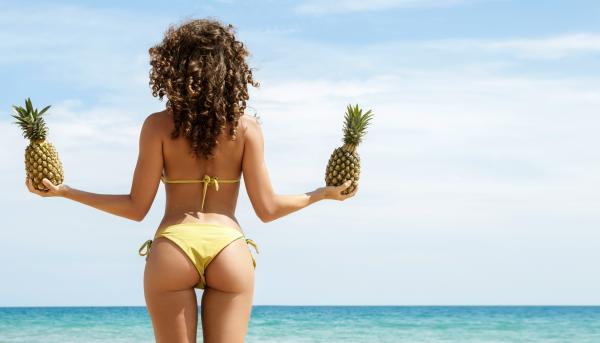 If you can think of something sexually hot or wacky among consenting adults over the age 18, it likely has occurred at Hedonism II, that very adult resort in Jamaica.
Yes, this stuff really happens at Hedonism II!
If you can think of something sexually hot or wacky among consenting adults over the age 18, it likely has occurred at Hedonism II, that very adult resort in Jamaica. Officially, the resort does not condone or encourage open sexual action in pubic (I mean public), but the daytime sex outdoors that occurs is seldom discreet.
Granted, few people want to eat their cheeseburger off the same table where someone just performed oral sex to completion. Even perverts have ideas on what's over the line at Hedonism II (nicknamed Hedo). And open sex is illegal in Jamaica if it can be seen from the water's edge, but this author has never heard of anyone's arrest in 35 years' worth of visits.
Guests are divided on their desire for discretion. Some say the freedom of Hedo includes having sex openly; others are bored by seeing the energizer-bunny couple at it yet again or a woman giving head to a man in the rhythm of the reggae beat playing at the nude pool while he reads a book.
"Hedo is one of the few places in the world that someone can get away with acting on fantasies, whether spontaneous or well thought out, while avoiding the long arm of the do-gooders who feel they should decide everyone's morality levels," says Steve from Knoxville, Tenn.
Here are some fun true tales — and one false tale — of what really goes on at Hedonism II. Can you find the false one? Answer at the end.
The Tales
Absence makes the frond grow harder: Joel from Long Island arrived to a message at Hedo's front desk that said Hedo didn't have enough rooms available so all his friends he was meeting had been shipped over to [another hotel]. Now he's bummed. His wife doesn't come in until later (from a business trip), and he's at Hedo with none of the friends he was looking forward to seeing. He makes his way to his room and opens the door. His bed is bedecked with five naked couples—his missing friends—in a mock orgy..."Hi Joel," they chime. The front desk is more organized than the guests suspect for having coordinated that event. Then Joel's wife flies in later that night—and she's greeted by Joel, naked on the bed, with a bevy of five naked gals.




At lunch we chat up another couple who says they just swapped dom and sub roles in their sex play. The gal told us she's discovered the pleasure of a butt plug with a jewel end. After detailing its use with a proud 'butt plug this' and 'butt plug that,' she asked if we'd like to see it. After a communal nod, she stood up and rather than reach for her purse on the table, she turned around and flipped up her skirt. Voilà! Bejeweled plug in place.

— Wayne from San Francisco




Joe from Pennsylvania saw a topless nun on Naughty School Girl Night and told her he was a defrocked priest and that she should see him later for confession in the lobby where he reads his good book in the evening. He admits surprise when she did later visit him there to be absolved of her sins. She confessed to masturbation, adultery, and impure thoughts. He told her (as a joke) that a blowjob would absolve her of all her sins. He was even more surprised when she went for it. Afterward, he told her to 'go in peace.'
A dark-haired woman is sitting next to a male friend having lunch at a table on the nude beach, her hand resting on his thigh. A ravishing redhead joins them on his other side and notices the hand on the thigh. The competition begins. The redhead fondles the gentleman's balls. Not to be outdone, the brunette grabs his shaft.
The gentleman pulls his baseball cap lower over his face and says, "Oh, boy." Neither woman has been intimate with him before. Other friends join the three for lunch, slowly realizing what is occurring under the table. The gentleman's hands on the table begin to shake. The brunette tells the redhead that it's too dry, so, in her classy inimitable way, the redhead spits on it.
Friends join them and they eat their sandwiches. One woman says, "He's going to come." A man replies, "Just don't hit my lunch with it."
The brunette asks a woman at the table for a plate of mayonnaise from the nude beach grill for lubricant. The people at the table, sitting boy-girl, pass the plate of lubricating condiment for the hands of all the women at the table. Above the table all seems normal to those walking up to chat. To those lying on nearby beach loungers, however, a six-cylinder engine has been created.


Single men happened to be spaced every 4 feet around the hot tub when a siliconized woman showed up. She moved from one to the next, teasing, talking, and giggling, then laid flat on her back on the edge of the hot tub with her legs spread-eagled. A friend stoically announced, "Snack bar's open!"
A gentleman took a lady back to her room while her agreeable husband sat at the piano bar. In her room they heard a scratching sound under the window seat where the bedspread was draped. The sound was a rat. They both wound up standing on the bed instead of lying on it, and then left for his room (they called maintenance to see to the rat). An hour later the man returned to the bar and told her husband they had a threesome. The husband was upset until the man named the other party.
The dining room staff loaned a guest a large metal slotted spoon from the kitchen. Little did they suspect the evil use of the kitchen equipment. She tied up two willing males—a cop and a firefighter—from Canada and stood them facing a room wall and closet for an hour-long spanking demo in a friend's room one afternoon. Ten or so women watched and giggled behind their hands because they knew the 'mistress' was just swatting their behinds willy nilly with the slotted spoon. Remember this story when serving yourself vegetables at the buffet.
My friends spot a solo guy at the nude beach grill and tell me to con him to doff his shorts. Within five minutes of sweet-talking I come away victorious. He was

sans

pants. Later he's still naked at the nude beach bar and I asked him if he liked girls taking off his pants. Grinning, he said, "That's the third time it happened today—it's great!" The guy had such a great scam: come down clothed to the nude beach and let women take off your shorts. Beware, ladies! They are on to us! — Chris from Chicago
One day on the raft, a woman was allowing all comers to take a throat culture on her. Management asked her to take it to the room, so she put a sign in the window: 'Free Blowjobs' and left her door open. Management asked her to stop. So she showed management one of Hedo's own matchbooks, which had the words: 'Now you can experience total freedom.' Finally, management told her hotel policy doesn't permit advertising in the windows, but she could leave her door open. Hedo no longer produces the matchbooks.
One dinner the lights went off for 10 seconds…to much cheering. Lights came back on…to much cheering. Three women were impregnated.
A woman dragged a guy from the Caribbean back to her room for canoodling. The man requested a condom and the woman produced said latex, wondering why he hadn't touched her intimately yet. He applies condom to his wood. She points to her girl parts and says, "It's not ready yet, so you'll need to do something to make it ready first." He said: "Island men don't care about the pleasure of their women." (Island custom has it that if a man is known to perform oral arts on his ladies, no one will share a spliff with him.) She didn't miss a beat and smiled and said: "You may leave my room now." After the standard "Are you serious?"/"Yes" back and forth, he asked: "You won't tell anyone I'm a bad lover, will you?" She made the zip-a-lip motion and sent him off.
The next morning she learned he had hit the beach early with his version of what happened (gossip spreads fast at Hedo). His story (without her name) as told to Doc from Buffalo (a 170-time plus repeater): Some woman from another culture asked him to perform unhygienic activities. So Doc officially had named the woman's girl parts "The Calamity Poom-poom." She just giggled, 'fessed up, and enjoyed the moniker.
On the side of the nude pool, a woman applied sunscreen to some men's members. She rubbed and massaged, spreading the lotion slowly. When she noticed all the other men watching, she said, "This is sunscreen, but I call it 'men's wrinkle remover.'" — Richard from Virginia
Look before you grope. Sharon was fondling her husband, Dennis, below the waterline in the hot tub as she talked with her girlfriend. Dennis got up to go talk to someone for a moment and another man sat down next to Sharon in the crowded tub. Without looking, Sharon picked up where she left off. Her girlfriend asked, "Do you know who's sitting there?" Sharon looked and screamed. The stranger just smiled.
Sue from Chicago tells another groping tale: On our first trip to Hedo, we were in the hot tub; my husband, Ron, was sitting and I was kneeling and facing him. In between fondling, kissing, and cuddling, I felt him tickle my butt with his toes so I started to massage his leg for the next 10 minutes or so. Gazing into his eyes, I began to massage his leg all the way down to his toes, where I felt a Band-Aid. I said, "I didn't know you hurt your foot." He replied, "I didn't." Confused, I asked, "How come you've got this Band-Aid on your foot?" He said, "I don't." I looked at the man sitting next to him…with his arm around his lady…and a big fat smile on his face.
A group of us floating spotted a new couple on a raft. We swam slowly toward them and surrounded them. After garnering their attention, we told them we were bored and asked if they wouldn't mind having sex to entertain us. — HedoHenry from Connecticut
One night a one-man Tidal Wave was going at his girlfriend in the hot tub. Only problem: no one was sure he'd ever finish. His girlfriend was in another world; she just kept staring at the sky. After 45 minutes he was still generating so many waves that the crowd almost started singing "Surfing USA."
The wildness at Hedo is not in direct proportion to the size of the orgy. A newlywed Hedo newbie learned she could 'load' water into her girl parts by mounting the forceful jets in the little tub and then stand up, lift her leg, and spray the loaded water 6 feet—and she did it repeatedly, like a circus act. Years later, she returned and after having had two children was delighted she could still perform. Some people have talent. (Yes, this author has photos. No, she won't share.)
Lisa says: "There's someone you know." I turn around (my husband is approaching). I reply, "Yes, you are right. I think I've slept with him. Lisa rolls her eyes and retorts, "Well, that narrows it down."
Every day a couple showed up in their beach loungers and passed pleasantries with the other guests around them. On their last day the gentleman, in a Southern drawl, asked, "What is my wife going to say when she finds out we were here together?" His companion replied, "How will she find out?" He slowly answered, "You'll tell her. You always do." — Paula & Chuck from Texas
The false tale? The lights-out one — three women were not impregnated.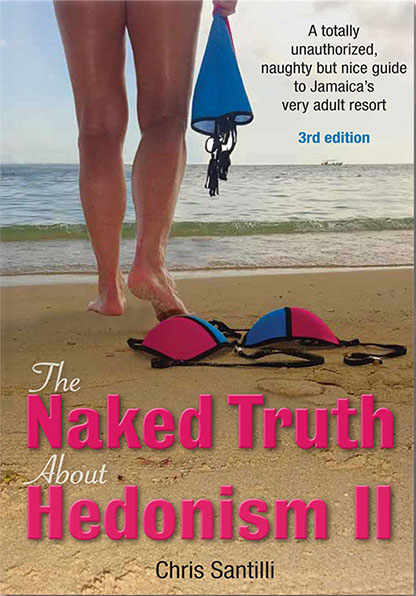 By Chris Santilli. ©2019.
This article, protected by copyright, is an edited excerpt from the 3rd edition update for 2019 of the travel/humor book, The Naked Truth About Hedonism II. (Available in B/W, color, Kindle, ePub, and audiobook.) For more information, see chrissantilli.com.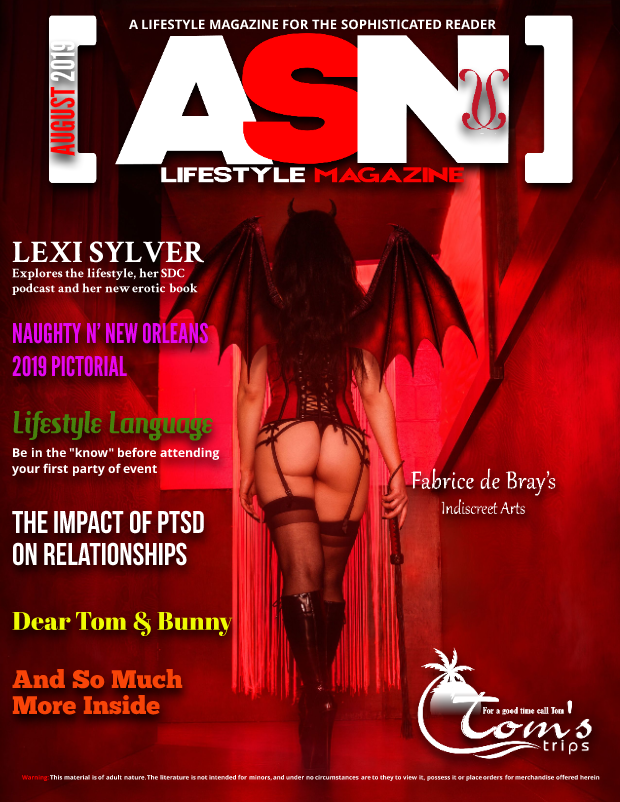 This excerpt originally appeared in the August 2019 issue of ASN Lifestyle Magazine.