She Put Her Husband to the Wife-Swapping, Cock-Hunting Test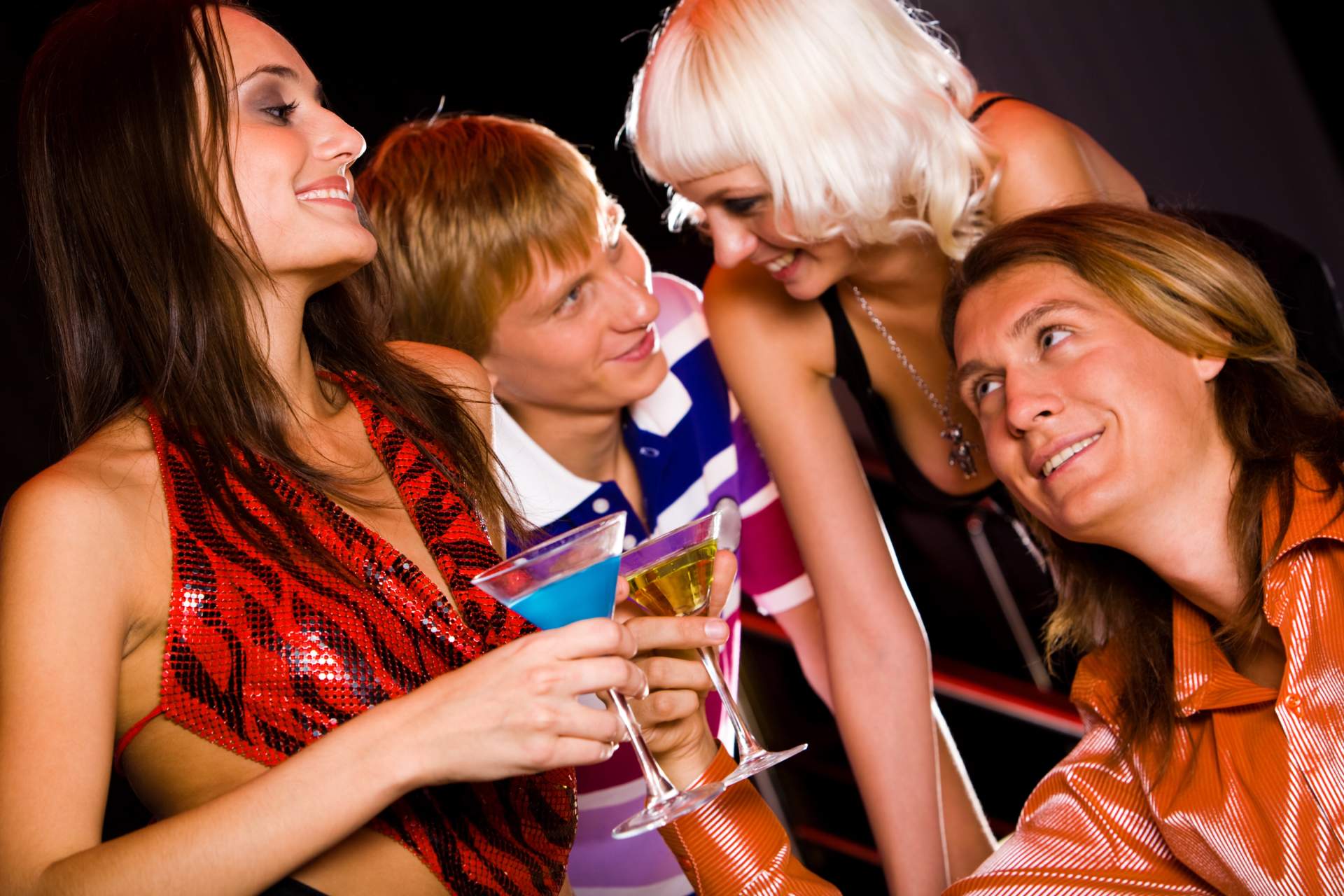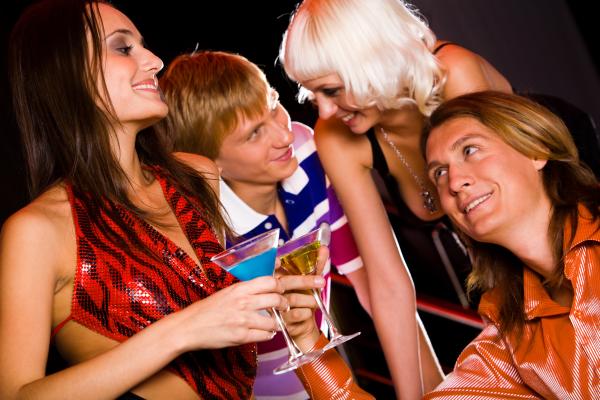 Their first visit to a swingers' club was underwhelming at first — until their wife-swapping couple-to-be walked through the door!
One of our SDC members submitted the following story to our "Wife Swapping Stories" Erotic Writing Contest.
After binge-watching a few episodes of a popular series on TV, I asked my husband if he would ever picture us doing what the swinger couples were doing in the show. He hesitated and (in classic male fashion) said, "I don't know... could you?" I think my reply shocked him a little when I told him I think I would like to try. We took the educated route and researched everything we could. We ended up with the decision of attending a local swing club.
That Friday night, I put on my sexiest little dress with a garter belt and sheer black thigh highs. I almost didn't make it out of the house from fending off my freak of a husband. We arrived at the club around 9:30 and made our way through the mass of single guys standing around the door like a pack of wolves looking to catch that stray sheep. We found a nice little four-top table in the corner, kind of out of the way but close enough to see and be seen. Knowing what I do now, that seating choice placed a red flashing NEWBIE light over our heads, and we stuck out like a sore toe.
A Weak First Impression...
The ambiance of the club was like something you would see in a '70s cop movie. There was really old big bush porn playing on the wall-mounted tube-type TVs and a small stage with a stripper pole. The place smelled like a cheap shot of bourbon with a cigarette butt in it. Not a good overall first impression. Other than the single guys, most of the people were kind of clique-ish and seemed perfectly happy to ignore us with our friendly new faces, smiles, and waves. We had been there for all of about 30 minutes before I was ready to leave, go home, and reconsider my life choices. I was finishing up my second weak-as-shit gin-flavored tonic water when a nice-looking couple came through the door.
... Until THEY Walked Through the Door
I watched as they made their way to a table just in front of ours and politely returned our smiles. In just a few minutes, we were sharing Steve and Kim's table and hitting it off perfectly. All of a sudden, the place that was so depressing before became fun! We danced and laughed at all the craziness of that club! The people got friendlier, and the drinks got stronger! We partied for about two hours, and then the magic questions were asked; consent from all was gladly given. We agreed on a hotel and headed out.
The Ladies Get Things Started
Once we got to the room, Kim and I went to the bathroom to freshen up for the night's events. Once we closed the door, I admitted to Kim that I was nervous as hell and started to shake a bit. Kim and Steve were experienced in the lifestyle and realized we were not. Her next action kind of stunned me. She wrapped her arm around my neck, pulled me in close, and slid her tongue into my mouth. Her kiss was so raw and passionate that it just flushed all those nerves away in a second. We continued our kiss as Kim slid her hand between my legs and started massaging my clit. The next thing I remember was the feeling of the cold tile of the bathroom floor against my back as we followed each other down.
Kim threw aside her thong panties to reveal herself to me. She was very neatly shaven, as was I, and my thirst to taste her was soon quenched as we assumed a 69 on the bathroom floor. I'm not sure how long we were locked into each other, but I know all too well that there is no oral sex for a woman like that from another woman, and with all the continuous orgasms, I didn't want it to end. We both came multiple times before Kim gracefully raised herself to her feet. She offered me a hand to get up, and that is when I saw my husband and Steve standing in the doorway... both with absolutely raging erections.
The Wife-Swapping Begins!
Steve was a much larger man than my husband. I mean no disrespect to the man I love, but Steve was really tall with large hands and was equipped with a long and very thick penis. Kim took hold of my husband's cock and used it like a leash to lead him to the king bed. Not to be outdone, I did the same for Steve. As Kim started giving my husband's cock some of the delicious tonguing that I had just experienced, I noticed him watching me. That turned me on so much!! Almost as much as the huge cock I now held in my hand. I gently stroked the soft foreskin back and forth, feeling the thick veins of the shaft. A little dap of shiny pre-cum was forming on the tip. I flicked that pearl of semen away with my tongue, and Steve squirmed a bit. The head of this tool was nearly blunt like a bull's head, giving it a thickness that was deceiving as I tried to slide it into my throat and choked. A few inches is all I could manage in my mouth. I cupped and gently massaged his heavy ball sack, and I used my tongue to make slow and steady circles all around the head of Steve's cock. This got my desired result, as his knees got weak, and he had to lay back on the bed next to his wife and my husband.
Kim had changed positions and was now riding my husband's rod with a hard bucking-and-grinding rhythm like a cowgirl on a bucking horse. My husband was center-focused on the little blonde hottie that was bringing him so much pleasure. Steve was quickly getting to the point of alpha male animal lust! He had a double handful of my hair and was stroking in and out of my mouth, causing me to fight a gag reflex with every thrust. I pulled away to catch my breath for a moment only to be rolled onto my stomach and pulled to the foot of the bed. My toes were touching the floor, and my body was face down on the bed, leaving me fully exposed from the rear. From this vantage point, I had a perfect view of Kim's vagina as it slid up and down on my husband's hard cock. I watched her as she gracefully bowed her back as she raised up and bent forward as he slid down. This motion had to feel so good to her and the man inside her. But, that thought quickly changed as Steve lifted my hips into position for what came next.
She Takes Steve's Massive Cock
My knees were now on the bed, and I was in the perfect doggy-style position. My ass was now the correct height for a taller man to get easy access to what he wanted. Steve paused to grab a tube of lubricant from his bag on the counter. He lubed himself up well, and I felt his hand on my naked ass as he wrapped the elastic of my garter belt around his hand in a knot like a halter for a horse. The next thing I felt was the warm thickness of his cock head as he slowly rubbed it up and down between my thighs. He would pause at the opening to my vagina and push gently, allowing me to start loosening up. Steve was a fantastic lover! He was in full control of me and chose restraint. That restraint was rewarded, as I was now dripping wet and ready to accept him. Sensing this, Steve lined up his tool and started to slide inside me. My husband does not have a small penis, but this thing that was now sliding its way inside my body was double what I was used to. It was a sweet pain I felt as my body stretched out to accommodate Steve's cock. He was now fully inserted in me. So deep, so hot, so full was this feeling. Then he began to thrust. My initial scream alerted my husband, and he asked if I was OK. As I fought to get out a few words, I managed to moan out, "GOD YES!" My husband leaned forward and gave Steve a high five as if to say, 'Congratulations, you're fucking my wife's brains out?!' I still don't get men...
My husband and Kim decided to take a break and watch Steve fuck me, which actually made me even hornier! Steve was now hammering away and driving me into a world of intense orgasmic passion that was so powerful I nearly blacked out. Kim positioned herself on her back so that she was face-to-face with me. We started kissing as she fondled my breasts. My husband mounted her missionary style and started stroking away.
A Pile of Passion & Newfound Compersion
There we were, a pile of sweaty bodies, so intertwined in sexual passion that no one cared where one person ended and the other person began. Time became irrelevant, and everyone served a function of pleasure for the group. Steve's thrusts became harder and more to the point of his pleasure. I could feel his cock start to swell just a little as he was starting to give in to the desire to get off. My husband and Kim began a long passionate kiss as they locked in a tight embrace. I faintly recognized the low groans from my husband that will always lead him to his orgasm. I remember thinking, 'good for you, baby... I hope you enjoy it as much as I am about to.'
Finish Him!
Steve hit me with a few quick thrusts and then drove that cock all the way in. I could feel the tip so deep inside me. He had finally taken all I had to offer and so much more. I had never really felt man's stream when he ejaculates until this night. When the first rope of cum shot out, I felt this warm, hard squirt deep inside me that was so hot that I immediately lost it and came like a thunderstorm. I came so hard that there were spots floating in front of my eyes! I hesitate to say this, but I never understood what a squirter was until that moment. I wet the bed with gushing streams. Steve continued to shoot his load in me as he ground his hips against my ass. He was a very heavy cummer!
You Never Know What Kind of Man Your Husband Is...
Once we were finished, we all took showers and cleaned up. Kim and Steve had to go home, so my husband and I spent the night at the hotel. The next morning, my husband was so hot and horny from the night before! He wanted to have some morning sex, but I had to turn him down. I was so sore! It took several days to get back into our sex life, and when we did (again, no disrespect intended), but my husband felt so small inside me. Oh, how I missed that big cock! He joked that he enjoyed the extra space. So much so did he enjoy it that he now goes cock hunting with me so he can watch and masturbate. If it's a couple, he is cool. If it's a huge cock, he is even cooler! You never know what kind of man you got until you put him to the test, and mine has passed with flying colors!

This story was submitted by one of our members to the Wife Swapping Stories Erotic Writing Contest. SDC announced the winner of this contest in September 2021. Our editor made minor adjustments to this story for length and clarity.