SDC ON IBIZA
Santa Eulalia del Río
IBIZA, SPAIN
21—26 SEP 2019
(5 NIGHTS)
Explore all the decadent pleasures of Ibiza, our provocative new SDC getaway that fuses sumptuous relaxation with the liveliness of the island's world-renowned nightlife. Over five hedonistic nights, you'll savor the unique local flavors and spectacular views, and we're not just talking about the stunning Mediterranean seascapes!
Throughout our exclusive SDC takeover of the five-star ME hotel, indulge in the experience of being surrounded by seductive, like-minded international couples in the lifestyle. The lavish state-of-the-art hotel and its sophisticated guests will entice you to explore freely anywhere you choose in exotic play areas, and the clothing-optional pools and Jacuzzis. Within steps of the hotel, you can siesta in style under the rays of the Spanish sun along the breathtaking beach.
In the evenings, immerse yourself in the youthful spirit of the lively Ibiza party lifestyle with our glamorous entertainment during our unparalleled SDC theme nights, uniquely designed to invigorate your senses all night long. And the memories and connections you create will be evoked long after your latest escapades in Santa Eulalia Del Ri­o!
Do not miss the exclusive, members-only access to the event guest list and reviews! Find out who is joining us on this trip and what other guests are saying!
Not a member? No problem! Click here to join now!
Modern, sophisticated rooms with a minimalist design and vibrant decorative touches. Feel pampered in the lush accommodations and sensuous ambience. Each room includes, plush bed linens, a luxurious rain shower, superior bathroom amenities, free Wi-Fi, TV with satellite channels, digital media hubs with HDMI and USB outlets, and mood lighting for your every desire.
Located on the first and second floors, our Aura rooms provide an an ideal environment in which to relax or have fun. The vibrant and modern design evokes a contemporary, minimalist feel alongside Ibiza-style decor, bringing some local flair to the chic lifestyle environment.
These are situated on the third floor in a spacious 28 square meter setting. The vibrant and modern design evokes a contemporary, minimalist feel alongside Ibiza-style decor, bringing some local flair to the chic lifestyle environment.
Located on floors 1 to 3 with partial views of the sea and Nikki Beach, the Energy rooms provide a perfect environment for fun-seeking guests. Energy Rooms, with their partial sea views, offer the ideal combo of tranquility and vitality in one luxurious setting.
The Mode rooms are located on floors 1 to 3 and provide direct views of the sea and pool, allowing guests to embrace it all. A unique and vibrant setting provides the perfect experience for both relaxation and play, offering crisp, minimalist interiors with a hint of Ibiza-style decor to bring some local colour to proceedings.
Wake up and touch the sky in this spacious room with a garden and magnificent terrace, fully furnished and reserved specially for you. Relax in a luxurious king-size bed or bathroom equipped with unique services. All the comforts make this room the perfect refuge for a few unforgettable days on the most exclusive island in the Mediterranean.
With wonderful views of the bay or the luxurious Nikki Beach Club, our Chic Suite with private terrace will make your holidays in Ibiza truly memorable. Featuring a majestic king-size bed and luxurious spacious bathroom with rain shower. Everything you need to enjoy relaxation at its best.
Revel in luxury and comfort in the Personality Suite with a huge lounge and large perfectly furnished terrace from which to enjoy unparalleled sea views. The room features a spacious luxurious bathtub overlooking the Mediterranean in which to relax as if you were in a genuine spa.
An oasis of peace and calm awaits you in a Suite designed for romance and in the purest Mediterranean style. Providing a large 80 square meter private terrace with whirlpool bathtub and privileged sea views, a beautiful luxurious bedroom which can also connect with an Aura room to further extend the space.
Revel in the radiance of your surroundings. Lounge and play by the rooftop infinity pool and take in the impressive 360° view while treating yourself in the Radio Rooftop Bar. Linger in the deluxe Jacuzzis and take a refreshing dip in the pool on the ground floor. Enjoy a stroll and unwind along S'Argamassa Beach, conveniently within steps of the hotel.
What is Included?
Room category of your choice
Daily breakfast buffet until 12pm
Clothing-optional pools
Jacuzzis and terraces
Topless beach
Playrooms day and night
Daily pool parties with the best DJ's in Europe
Free access to Nikki Beach
Theme nights
Personalized booking service
SDC team at your service, on-location, 24/7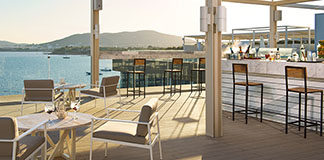 Bars
Exquisite cocktails and pulsating music create the perfect environment to enjoy the 360º views of the endless beaches.

Enjoy delicious snacks inspired by the Mediterranean Sea and Italian traditions in a unique setting where the spectacular hotel pool converges with the sea.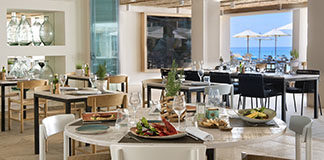 Restaurants
The RADIO Rooftop Bar serves the finest cuisine, delicious cocktails and has a private pool with 360º views.

The SALT&SEA fresh Mediterranean bar and restaurant presents a selection of natural flavors inspired from the Spanish peninsula.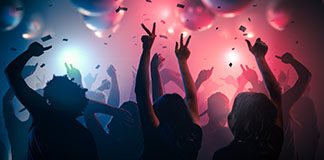 Clubs
The SDC Night Club will have you dancing the night away and is an excellent spot to flirt and hook up with other sexy couples.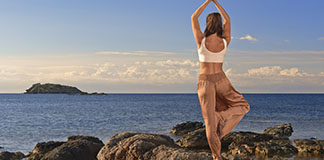 Extras
A world-class spa, well-equipped gym, an indoor pool and two clothing-optional pools will be at your disposal.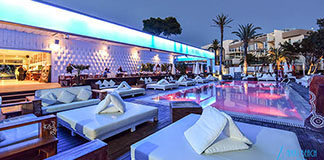 Nikki Beach
Free entrance to our takeover clients Tucked away on a magnificent beachfront property on the island's east coast in the Santa Eulalia area, Nikki Beach Ibiza provides guests with a stylish and multifaceted venue consisting of the brand's signature beach club, restaurant, pool, octagon bar and lifestyle boutique.
SDC reserves the right to changes at any time, without prior notice. Any applicable resort fees are payable to the venue directly.