Vrouwen willen weten: hoe kan ik van mezelf leren houden?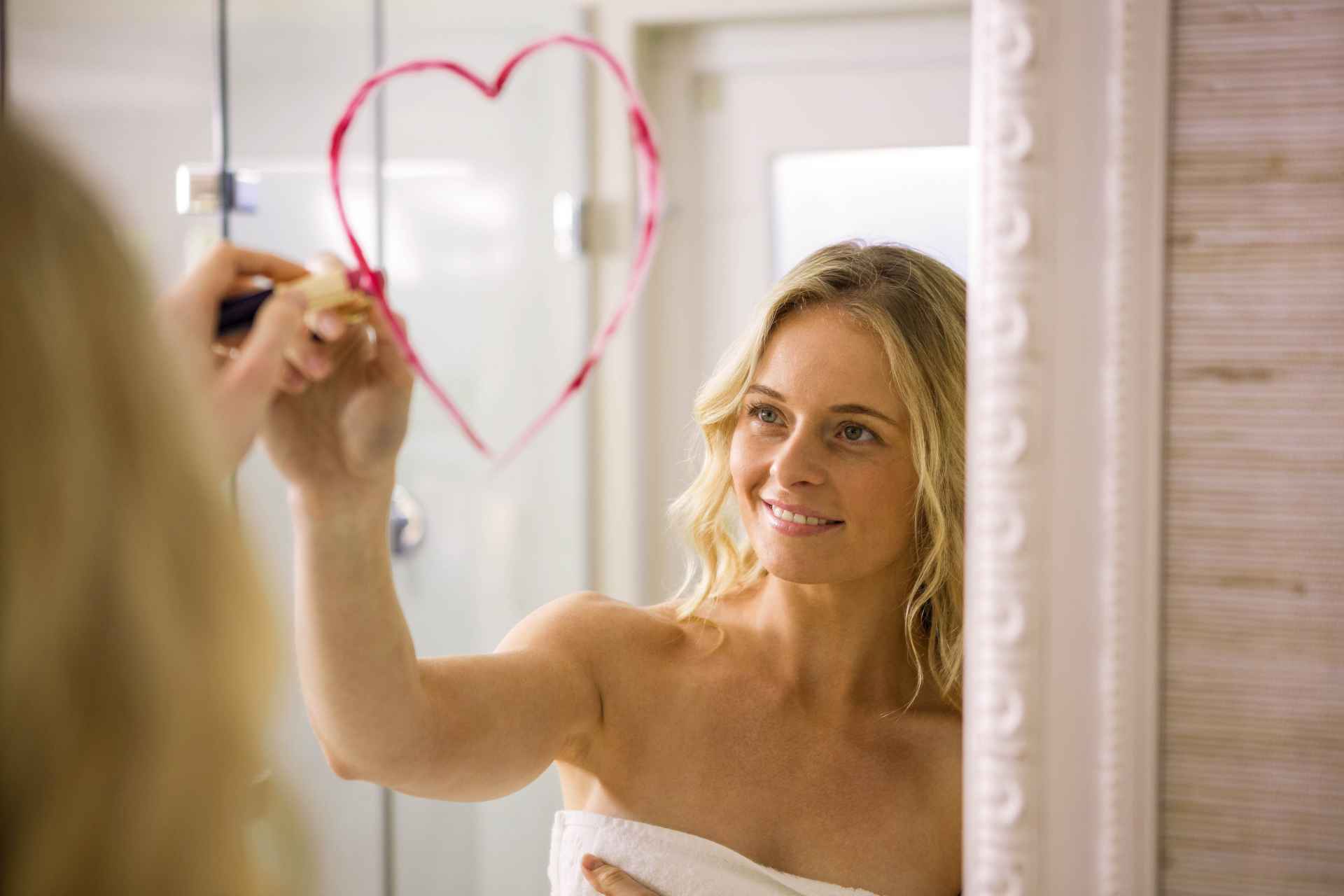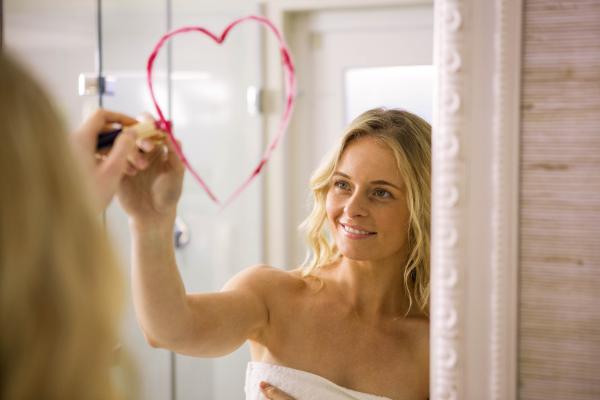 Taara Rose van Sex Uninterrupted deelt haar advies over hoe je jezelf kunt leren accepteren en biedt tips om het in de praktijk te brengen.
Deze vraag kwam onlangs op in een Ladies of the Lifestyle-groep waarvoor ik admin ben. Het is een probleem waar veel vrouwen in het algemeen mee te maken hebben en ik wilde mijn advies daarover delen in het augustusnummer van ASN Lifestyle Magazine .
Vraag van dit nummer
Vraag:
Ik heb een paar partners buiten mijn huwelijk, allemaal vrienden met voordelen. We hebben een geweldige tijd en het voelt goed. Een van mijn partners is erg aantrekkelijk. Toen ik een tiener was, kreeg ik van een pestkop te horen dat ik nooit 'nooit met iemand zou kunnen zijn die aantrekkelijk was'. En dit heeft in mijn hoofd post gevat dat ik het niet waardig ben om seksueel te zijn, gewenst te zijn, of bij iemand te zijn die ik heel erg aantrekkelijk vind. Dit aangenomen idee beïnvloedt mijn verbinding met mijn partner. Ik verzin verhalen in mijn hoofd over hoe ik onwaardig ben, waarom hij niet bij me zou willen zijn en ik saboteer mijn geluk en vreugde keer op keer met dit valse geloof. Wat zou ik moeten doen? Hoe kan ik hier overheen komen? Ik ben er zo klaar voor om plezier en liefde te omarmen, maar het wordt altijd belemmerd door dit idee.
Het antwoord:
A: Ik ben zo blij dat je er klaar voor bent om aan jezelf te werken. Bewustzijn is de eerste stap en je hebt al heel veel werk verzet, simpelweg door te erkennen en herkennen hoe je je voelt over jezelf. Door te begrijpen waar die gevoelens vandaan komen. Gepest worden als kind kan een enorme impact hebben op een kind en doorwerken als we ouder worden. Voeg hieraan toe dat het feit dat je een vrouw bent, en dat de media je dagelijks laten weten dat je niet 'goed genoeg' bent, en je hebt het perfecte recept voor weinig zelfvertrouwen, weinig zelfbewustzijn en een algemeen gebrek aan liefde voor jezelf.
In niet-monogamie en alle aspecten van je leven is jezelf liefhebben uiterst belangrijk. Waarom? Liefde voor jezelf definieert JOU. Het geeft je de vrijheid om te ervaren wat je leuk vindt en stelt duidelijke grenzen aan de dingen die je niet leuk vindt. Als je niet van jezelf houdt of je eigen schoonheid ziet, hoe kun je dan toestaan dat een ander van je houdt? Ze kunnen voor je zorgen, dingen voor je doen, dingen voor je kopen, maar de liefde zal echt alleen zo diep gaan als je liefde voor jezelf gaat.
Manieren om liefde voor jezelf en zelfacceptatie te ontwikkelen
Dus hoe kun je verder gaan met je genezing en je eindelijk te voelen als die stralende, mooie godin die je bent? Ik geloof dat het begint met een bewuste keuze en het klinkt alsof je klaar bent om die keuze te maken.
Hieronder heb ik wat advies gedeeld over hoe je de liefde voor jezelf en zelfacceptatie kunt aanmoedigen. Hierna volgt huiswerk uit sessie 1.0 van mijn spirituele programma dat helemaal over liefde voor jezelf gaat. Ik hoop dat dit het zetje is dat je nodig hebt om echt te zien hoe waardig je bent.
Schrijf een mantra op de badkamerspiegel. Ik deed dit met de uitdrukking "Ik ben genoeg" en het heeft me gemotiveerd om me, elke keer als ik ernaar kijk, bewust te zijn van mijn gedachten over mezelf. Sommige anderen schrijven "Ik hou van mij". Ik ben het waard om liefde te ontvangen. Ik ervaar een evenwichtige en liefdevolle relatie met mezelf.

Zoek een vrouwengroep / -kring om lid van te worden. Er zijn er veel die gericht zijn op vrouwelijke genezing en het in de buurt zijn van vrouwen die je aanmoedigen en je geest en ziel verheffen is zo krachtig en machtig.

Kleed jezelf aan en maak een sexy selfiedag of boek een ondeugende fotoshoot. Ik maak geen grapje! Voel jezelf sexy - hoe je er ook uitziet - en maak foto's! Ik deed dit vaak toen ik alleenstaand was en alleen woonde. Wees hiermee creatief en maak ook ondeugende foto's. Het is intiem en speciaal!

Geef jezelf wat praktische eigenliefde! Ja - een orgasme. Zelfgenot is de ultieme vorm van zelfliefde. Tijd en energie nemen om een orgasme te creëren is liefde.

Investeer in een Yoni Egg. Dit zijn krachtige genezers en geweldige hulpmiddelen om eigenliefde te promoten.

Als je het gevoel hebt dat het moeilijk is om jezelf lief te hebben, overweeg dan het raadplegen van een specialist. Een levenscoach, therapeut of psycholoog zijn altijd geweldige manieren om verder te komen en te ontdekken.
Huiswerk van het Spiritual Slut Programma
Ik daag je uit om lang en goed naar jezelf te kijken in de spiegel. Trek al die kleren uit, het masker dat je draagt en blijf gewoon naakt staan. Bewonder je rondingen, je schoonheid en je uitstraling, je kracht - JIJ. Ga daar, naakt, voor de spiegel zitten en kijk naar elk van jouw drie niveaus.
Kijk eerst naar je fysieke lichaam. VOEL HET. Word verliefd op hoe je eruit ziet. Bewonder jezelf. Je bent een wonder en je bent liefde en licht. Probeer negatieve gedachten in stilte te stoppen of zeg zelfs hardop dat ze moeten verdwijnen. Breng gewoon een seconde door om jezelf te bewonderen.
Ten tweede, kijk in je ogen. Dit wordt Soul Gazing genoemd. Dit komt eigenlijk van Tantra, voordat intimiteitspartners de ziel in elkaars ogen zien. Vandaag zul je het met jezelf doen, zodat je zelfliefde beoefent. Ga zitten en staar in je eigen ogen. Kijk diep en verder dan het oppervlak.
Als laatste wil ik dat je een spiegel grijpt en deze tussen je benen plaatst. We gaan Yoni Gazing oefenen. Dit is een andere Tantrische praktijk. Hier kijken/mediteren de mannen in hun partners vagina. Yoni Gazing verandert alles aan je gedachten aan je vagina. Dit is waar het leven begint. Dit is een geschenk en we moeten haar zo zien. Je kunt staren of aanraken - het maakt niet uit. Je kunt haar zelfs proeven! Schaam je niet voor hoe ze ruikt of smaakt. Maak opnieuw verbinding met haar en word je bewust van haar schoonheid en kracht en kracht. Vind je CADEAU opnieuw. YONI IS EEN CADEAU.
(vul dit in na het huiswerk)
Waar houd je van
Noem drie dingen die je leuk vindt aan je fysieke zelf. Ik wil dat deze drie dingen iets zijn dat je nog niet eerder zag. Ga eens graven om je nieuwe liefde voor je lichaam te ontdekken.
1.
2.
3.
Noem drie dingen die je leuk vindt aan je ziel. We vinden veel terwijl we naar onze ziel staren. Welke drie dingen vielen je op die je mooi aan jezelf vond?
1.
2.
3.
Noem drie dingen die je leuk vindt aan je Yoni (vagina). We zien vaak onze Yoni en haar kracht over het hoofd en geven haar zelden de eer die ze verdient. Waar hield je van toen je met haar speelde?
1.
2.
3.
Als je geïnteresseerd bent in meer informatie of een vriendelijk oor nodig hebt om je te helpen met je niet-monogamiereis, bezoek dan sexuninterrupted.com. Ik hoop echt dat je deze informatie nuttig vindt.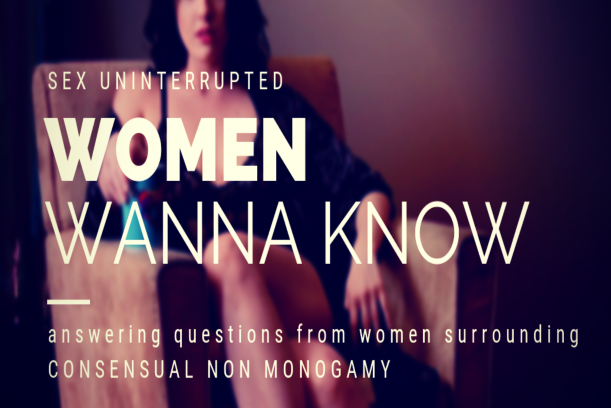 XOXO
-Taara
Dit artikel verscheen oorspronkelijk in het augustus 2019 nummer van ASN Lifestyle Magazine .