SDC Team-Building in Costa Rica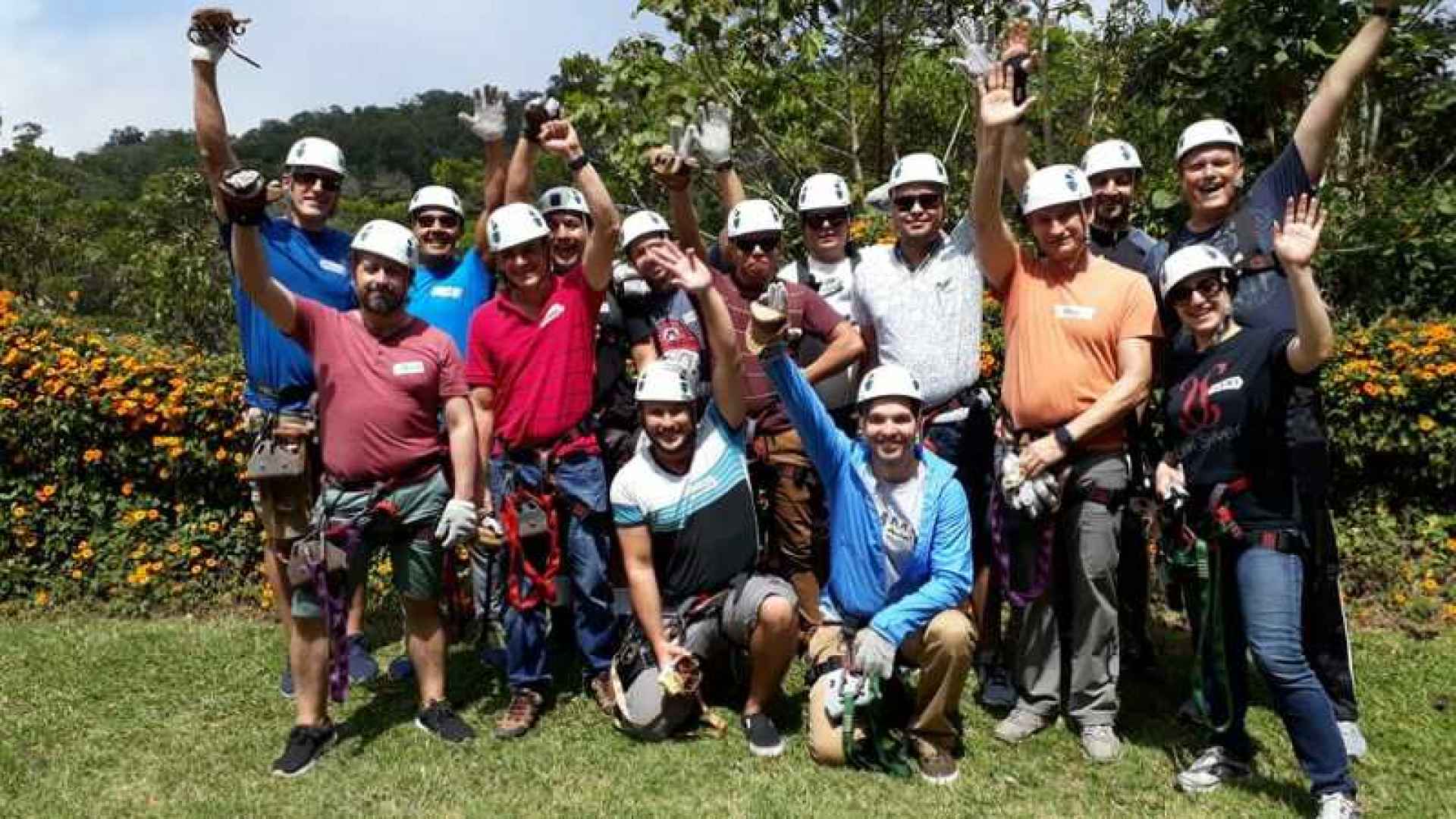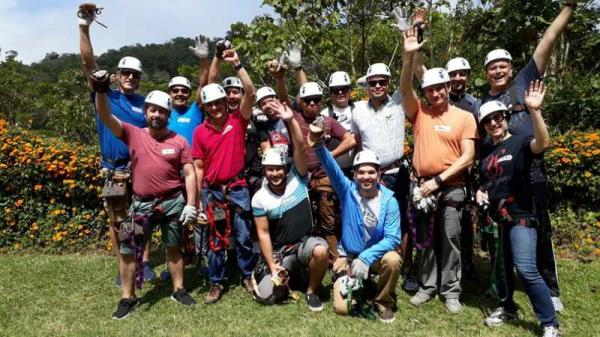 Our mission in Costa Rica: unite as a team and come out stronger than before. After some ziplining and group activities, we were proud to say: Mission Accomplished!
Our mission in Costa Rica: unite as a team and come out stronger than before. After some ziplining and group activities, we were proud to say: Mission Accomplished!
15 Minds Are Better Than One
This past February, a few of us headed down to Costa Rica for a few days, traveling from Montreal, North Carolina and Miami to meet with our development team, many of whom had never even seen each other before. Most of our talented developers hail from Costa Rica and other areas in Central and South America.
At the beginning of the trip, I joked that we needed name tags. But it didn't take long for all fifteen of us to all get to know each other.
We started off Day 1 of our trip by meeting as a group in one of the hotel's conference rooms, talking and brainstorming for hours on different ways we could improve our SDC website. We went over even the smallest details to talk about perfecting our workflow and making sure that all our members and visitors to our new media site could benefit from an incredible experience and easily find all the information about sex, health and relationships that they were looking for.
Our progress and energy levels were high, and we were all feeling motivated to move forward with a plethora of exciting new ideas we would be implementing at SDC. So when we set out the next day on our team-building activity, we were all ramped up with that same electricity and looking forward to what the beautiful day had in store for us.
A minibus picked us up at the hotel bright and early in the morning for the trek to Colinas del Poas, in the Fraijanes province of Alajuela. Just to get an idea of how incredible the scenery is there, Poas is one of the world's most beautiful active volcanoes.
When we arrived, we left all our belongings in the group area inside and walked up the hill towards where we would be doing our team-building exercises… and our ziplining excursion!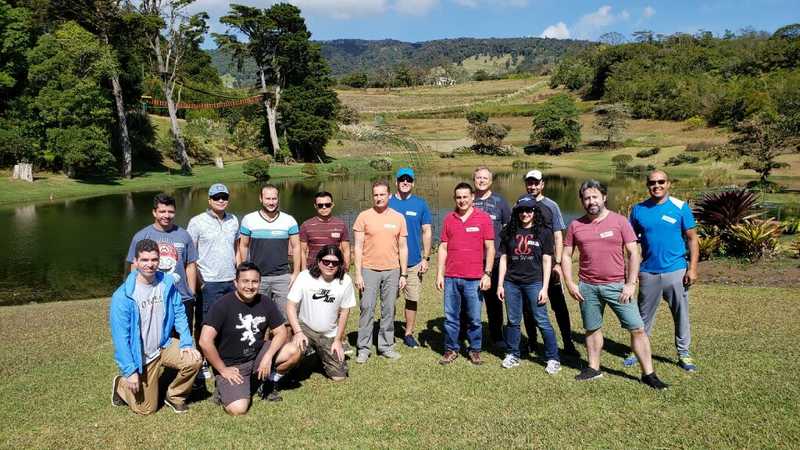 Ziplining Time!
We started with a couple of activities that seemed simple at first, like an integration dynamics circuit and building a synergy tower, but each exercise really challenged us as a team. We had to use our communication skills to the utmost, listen to each other, and work together to achieve our purpose. And while we were facing these obstacles, we were also laughing and having a great time.
After heading back to the main cabin for a snack break, we got dressed in our ziplining gear for the next phase of our team-building day. I'd been ziplining before this, but never through the canopy of the Amazon Rainforest. Our surroundings only made the entire experience more memorable.
There we were, entrusting our bodies to ziplines dangling through the green valleys, zipping one by one along the paths and cheering each other on from a distance, laughing when someone occasionally braked too hard and got stuck a little bit before the desired ending point. We trekked up higher and higher to grapple each subsequent zipline.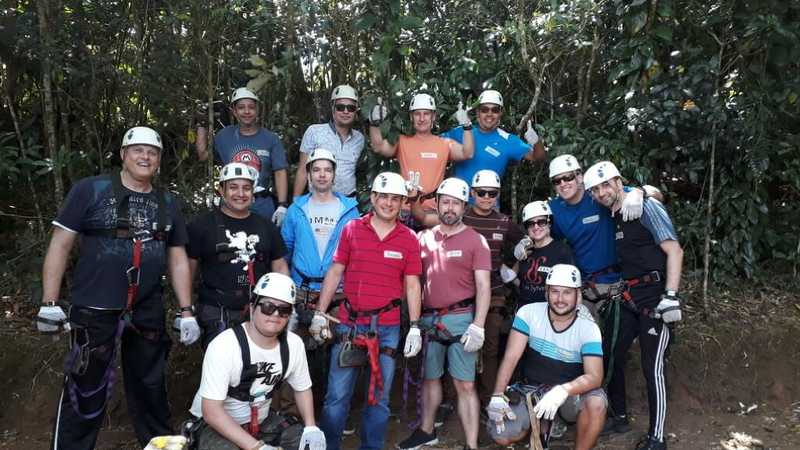 The last cable was the longest and the fastest of the eight lines. As I zipped along, I called out "Wooo!" and heard my voice echo through the mountains. What an adrenaline rush!
After our ziplining excursion and a group lunch, we headed back outside to do a rally around the small lake on the grounds. Our team director split us into two teams for some head-to-head competition.
Each team had to choose a team name and come up with a team cheer. My team chose The Sharks while the other team chose Ajax (an homage to the programming language). We laughed at each other's cheers and concluded that none of us could ever be confused with cheerleaders.
The next phase was a relay race using canoes to go across the lake to capture a flag (which was both the starting and ending point of the race). In between, we had to do a variety of small activities – but the biggest endeavor was the construction of a raft, using only inflatable round donuts, bamboo rods and some rope, and it had to be sturdy enough to go across the lake.
Our team built the better constructed raft BY FAR – Ajax's fell apart halfway across the lake, and one of the guys was basically swimming with parts of the raft attached to him and an oar in his hand. It was hilarious to watch – but I wasn't laughing as much when Ajax somehow made their way back to land to capture their flag BEFORE our team did! So even though our raft was far superior, the other team won the race.



In the end, the only thing that truly mattered from our experience was the fact that we all got to know each other better, felt like a real team, and put our communication skills to use in a way that has endured beyond our travels to Costa Rica.
As SDC continues to grow, we know we'll have many more team-building activities and fun events that will bring us closer together. Even though many of us are separated by thousands of miles, SDC feels like a family. And I'm proud to be a part of it.