Mating Season is OUT NOW!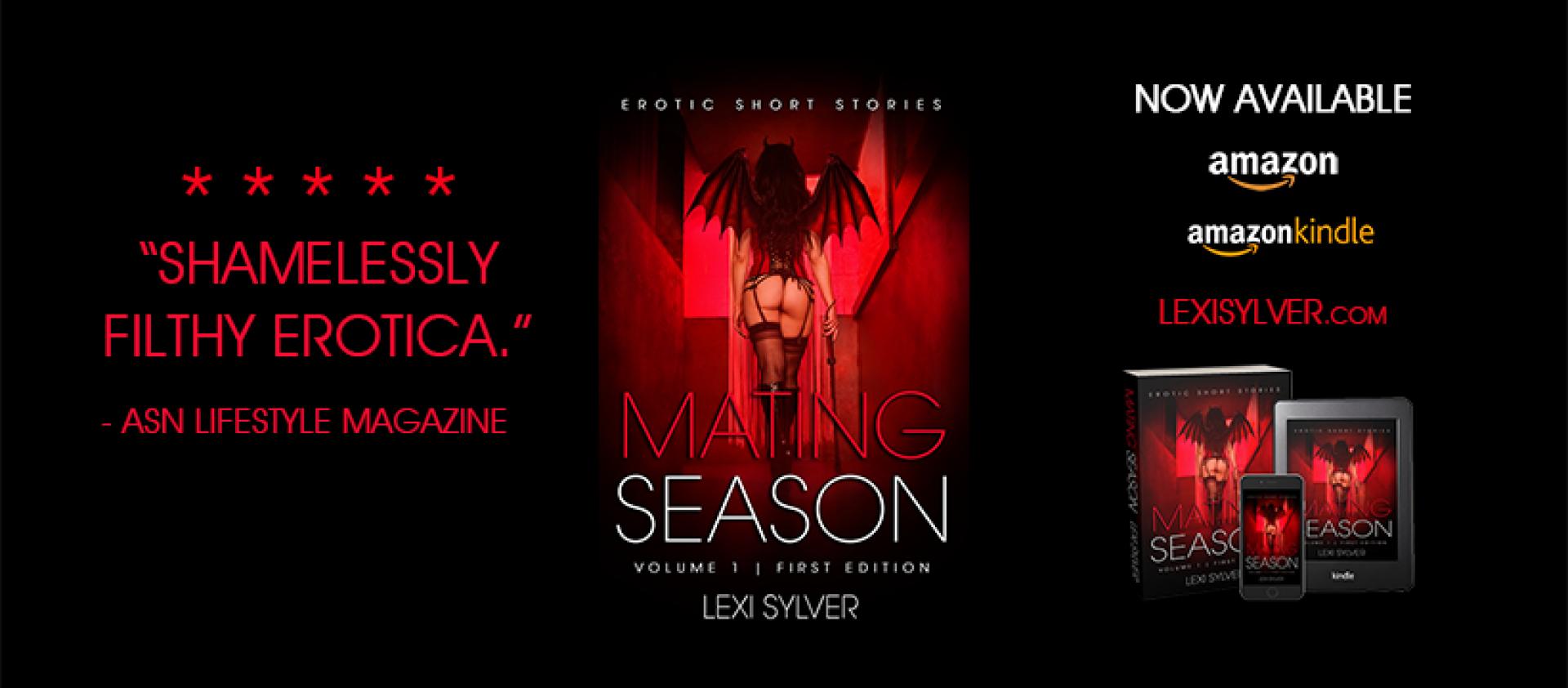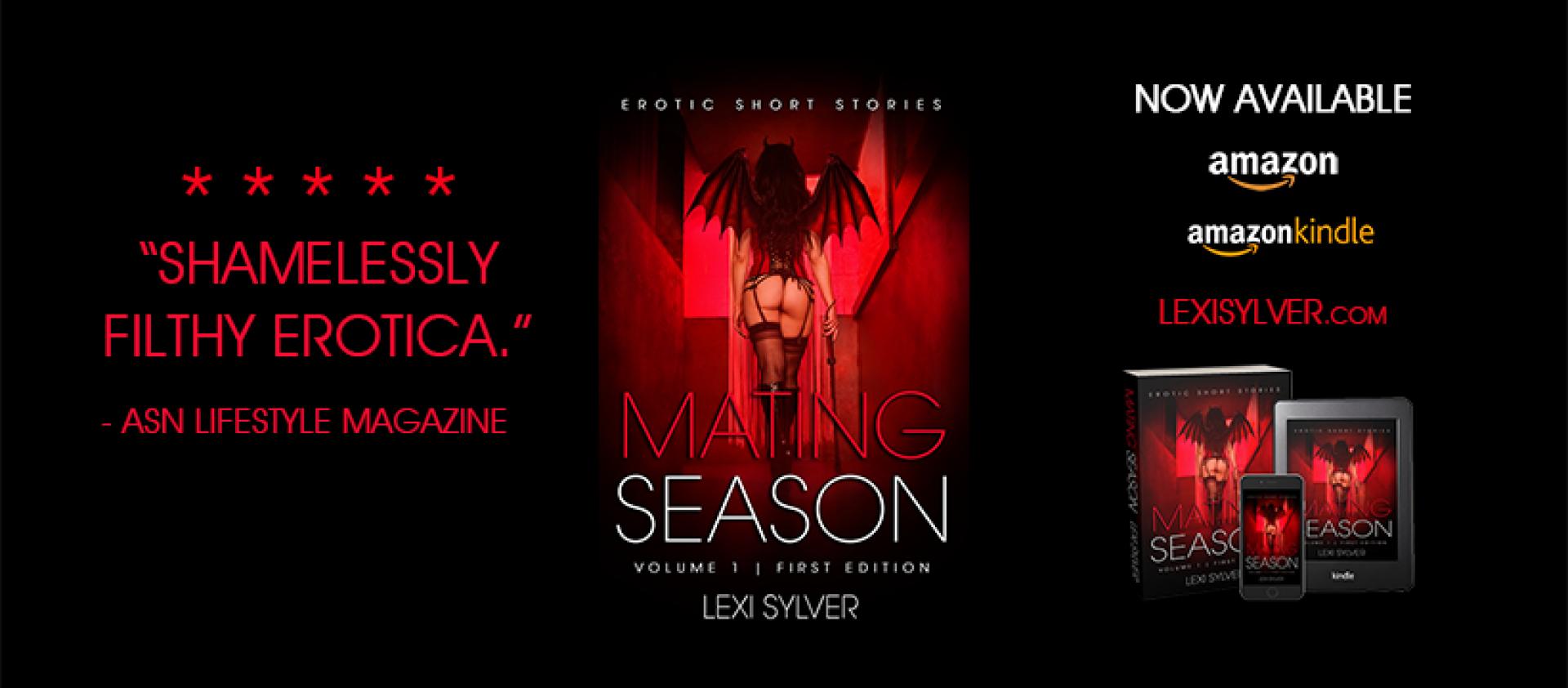 Lexi Sylver's new erotic book Mating Season is OUT NOW — just in time for Masturbation May!
The time has come!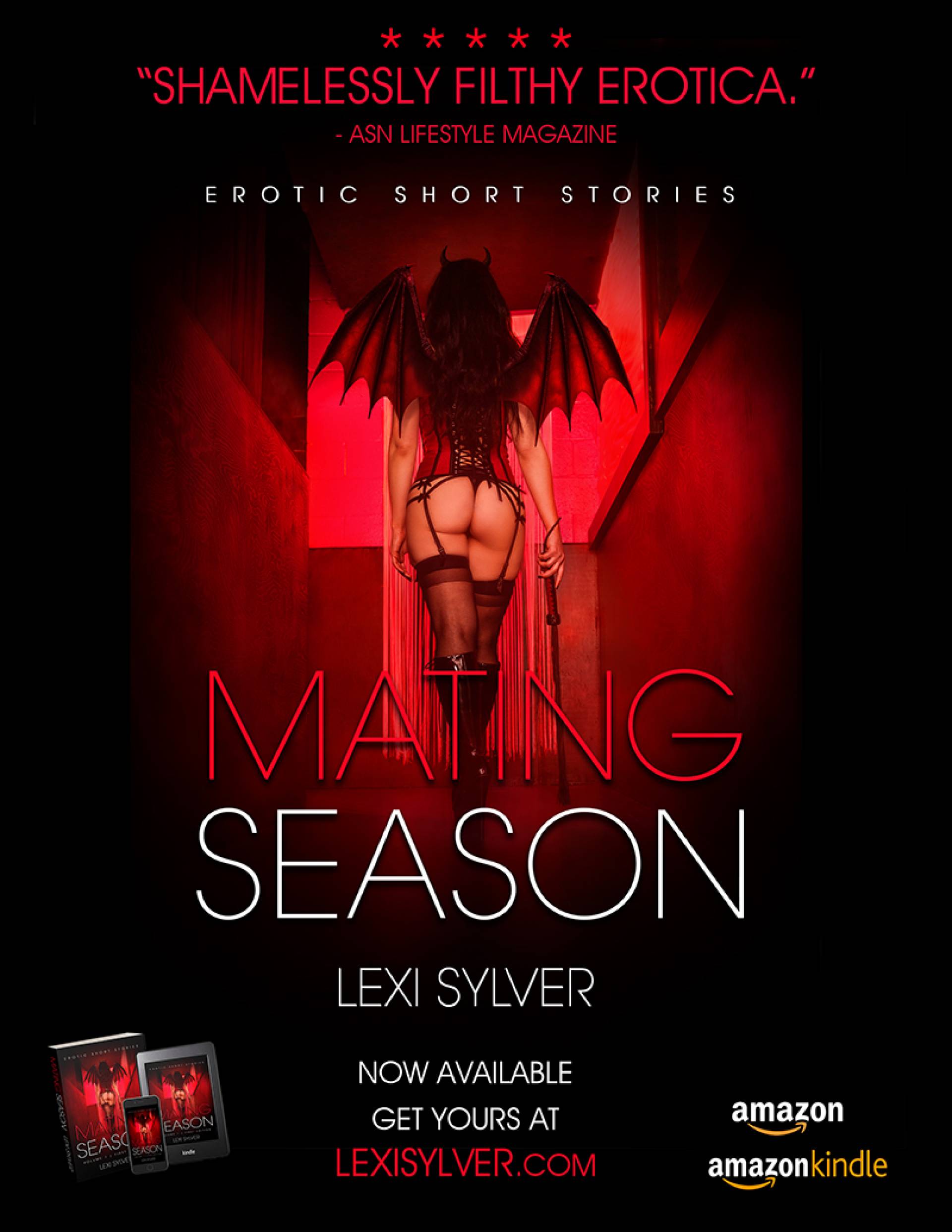 Mating Season Cover Photo by Fabrice de Bray

My collection of erotic short stories, Mating Season, is out and ready to be in your dirty little hands, my Lexual perverts!
I'm thrilled to finally be able to share my smut with you!
Mating Season has been in the works throughout most of my adult life. Did you know that when I was in my late teens, I published a very primitive version of Mating Season?
My friend Vince created the cover, which was a gorgeous graphic rendering of a curvaceous woman with long curly hair, lying on a bed of silk.
I chose about ten or so stories I'd written, got it printed and bound at a local copy store, and made only about 10 books to give out to my closest friends. I still have a copy of it!!!
And now, you can get a copy of the first OFFICIAL volume of Mating Season, now available in paperback and ebook formats!
Excerpt from Accidental Voyeur
"Through the open upstairs window, he saw a naked woman with luscious curves, her long, straight blond hair flowing between her ample breasts. His cock sprang alive in his jeans. He couldn't take his eyes off her. She was completely naked, sitting on the window seat sideways with one knee up, her hand between her sun-kissed thighs."


"Was she doing what he thought she was doing? Was she actually masturbating in front of the window in the middle of the day? The woman's moans beckoned to him. The urge rose within him to approach and discover more about the source of this erotic soundtrack."


"Luca wondered who else could see her but then realized there was a lake behind their house, blocking most – but not all – potential peepers. Did she even know he was there?"


– Excerpt from "Accidental Voyeur" in Mating Season, Vol. 1 (2020)
About Mating Season
My real erotic adventures and darkest fantasies come to life in this provocative collection of erotic short stories. Mating Season lures you into the depths of the obscene as you read my favorite tales of daring group play, sapphic seduction, enticing encounters and kinky BDSM. Join a cast of shameless characters in their pursuits to satisfy their decadent appetites for pleasure. Welcome to my Lexual playground, where it's always Mating Season.
My first volume of erotica, entitled Mating Season, includes ten short stories partly based on my real-life sexual experiences. These tales explore taboo topics like bisexuality, threesomes, open relationships, BDSM, voyeurism and exhibitionism, with graphic descriptions of each scene. The longest story in the book, The Secret Passage, delves into swinging, kink and sexual exploration against a backdrop of Amsterdam's sex-infused subculture.
With Mating Season, I want to empower others to "open your mind to new things and embrace your fantasies and your authentic self, rather than repressing them or feeling shameful about them," as reads in my book's foreword. While some authors are private about their identities and personal lives, the front cover of Mating Season features a photo of myself from behind, wearing lingerie and wielding a flogger. 
About Me
"Lexi Sylver is the Montreal-based erotica author of Mating Season and All the Queen's Men. She enjoys having a kinky and unconventional lifestyle and sharing her stories and experiences with others. Lexi hosts and produces SDC.com's sexuality podcast, Seek, Discover, Create with Lexi Sylver. As an entrepreneur, advocate, educator, public speaker and coach for consensual non-monogamy and the swinging lifestyle, she journeys the world to attend travel events and conferences. She regularly contributes articles about sexuality and relationships to Pornhub's Sexual Wellness Center, ASN Lifestyle Magazine, SDC.com and her personal blog. Her mission is to promote empowerment and education by guiding you to shamelessly explore your Lexuality."